Flow Control
Trainer
The (flow) factor of Flow Control Trainer is controlled by microprocessor based digital controller which manipulates pneumatic control valve through I/P converter.
The control valve is fixed in water flow line. These blocks along with necessary piping are fitted on support housing planned for tabletop mounting. The controller can be joined to computer through Ethernet port for monitoring the process in SCADA mode.
Flow control trainer serves to display and teach the measurements and control of liquid flow processes.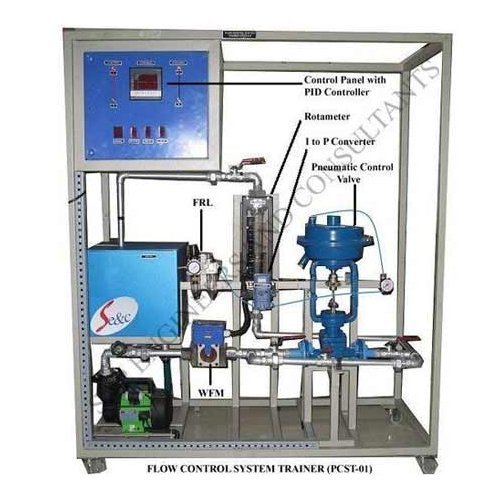 Flow control trainer manufactured by SAP Engineers & Consultants is for understanding the necessary principles of flow control. The procedure consists of supply water tank fitted with pump for water circulation. For flow sensing which measures differential pressure across orifice meter a DP transmitter is used.
Features:
User friendly
Leakage proof safety
strong piping
Improvised electrical safety consideration
Latest technology used
Accuracy in result
Extended service life
Smooth performance
Auto tuning
Stability analysis
Range of Experiments Flow Control Trainer can carry out:
Study of open loop (Manual control)
Gain knowledge of on/off controller
Gain knowledge of relative controller
Gain knowledge of fundamental controller
Gain knowledge of derivative controller
Gain knowledge of PID controller
Gain knowledge of (Open loop method)
Gain knowledge of (Closed loop method)
Gain knowledge of (Using Auto Tuning)
Applications:
Gain knowledge of single loop PID
Gain knowledge of SCADA Application software
Digitized control of flow control system
Training and operation of PID controller
Supplementary systems
Configuration of MIC based controller
Gain knowledge of stability of flow control systems
Procedure and calibration of transmitter